CCLP Awarded £2,220,500 by National Lottery Heritage Fund
Press Release – 30 March 2020
The Coalfield communities of East Ayrshire are set to benefit from a multi-million pound landscape and heritage regeneration project, following the exciting announcement that the Coalfield Communities Landscape Partnership has been successful in its application to the National Lottery Heritage Fund.
Thanks to the National Lottery Heritage Fund and the National Lottery players the Coalfield Communities Landscape Partnership (CCLP) has secured £2,220,500 for a 5 year delivery phase. When added to other funding that partners have secured and will continue to secure, the total project budget will be in the region of £6million.
The partnership will be delivering 22 exciting community led projects over the project area that aim to significantly improve the cultural, natural and industrial heritage of the area.  The wide range of projects include peatland restoration, new footpaths, an oral history project to capture memories of the lost mining villages, the reinstatement of hedgerow habitats, a musical celebration of life in the coalfields and much, much more.  The funding provides an opportunity to re-vitalise life in and reconnect local communities with their  own distinctive landscape by tapping into its history, improving knowledge of the present and helping inspire aspirations for the future.,
Caroline Clark, Director Scotland of The National Lottery Heritage, said:
"The industrial history of East Ayrshire means that people often don't recognise that the area is rich in both built and natural heritage. With the help of National Lottery funding, the Coalfield Communities Landscape Partnership will help communities across a wide area reconnect with the heritage on their doorstep, strengthening their sense of pride and inspiring stewardship of the land around them."
The impetus for the CCLP came from East Ayrshire Council's Minerals Local Development Plan which focusses on regeneration and restoration, rather than just mineral extraction.  Adopted in January of this year, the CCLP is fully embedded within the Minerals Local Development Plan (MLDP) and will work with other initiatives to improve the coalfields area over the lifetime of the Plan.
Cllr Roberts, Cabinet member with responsibility for Economy and Infrastructure said
'I am absolutely delighted that the application to the National Lottery Heritage Fund has been successful.  This is the culmination of a huge amount of hard work over the last 2 year from the CCLP team and of course our passionate and committed community partners, without whom the Partnership just would not work.  I am excited to see the marvellous mix of projects as they come to fruition over the next five years and I'm sure all our communities will benefit greatly from them.'
East Ayrshire Council is the lead Partner of the CCLP, the other Board members being East Ayrshire Leisure, Galloway and Southern Ayrshire UNESCO Biosphere, Scottish National Heritage, Forest and Land Scotland, Central Scotland Green Network Trust and East Ayrshire Health and Social Care Partnership.
Ed Forrest from the Galloway and Southern Ayrshire UNESCO Biosphere said "I'm thrilled to hear the great news that funding has been confirmed and really looking forward to our UNESCO Biosphere working with local communities and partners in delivering what will be a truly transformational project for the Coalfields area."
Our community partners are also pleased to receive the support which will help deliver projects that they have been working on. The Rev John Patterson, Lugar Parish Church said "For five years the Kirk Session and congregation of Lugar Parish Church have been planning the development of the Church building, first donated to Lugar by Baird & son in 1867, so that it might be more relevant as a building and a resource today. Without ceasing to be a worship centre, phase two was proposed to be the internal development of the building to include a cafe, disabled toilets, disabled access and a heritage information centre concentrating on the immediate local area and such people as William Murdoch.  We in Lugar Church are most grateful to all partners inside and beyond the church for their encouragement and support. The bid to HLF through CCLP and East Ayrshire Council has been successful and the development of the church will commence soon, ensuring the building will be a continuing gift to Lugar that keeps giving as an asset to the whole community."
National Lottery Heritage Fund site visit
In spite of the weather on the 28th of January the CCLP had our site visit (as part of our stage 2 bid) from the National Lottery Heritage Fund (NLHF). We started at the Community Hub in Ochiltree with short presentations from Sir James MacMillan (Cumnock Tryst) on the 'Musical Celebration of the Coalfields' project followed by Bruce Davidson (East Ayrshire Woodlands) talking about the 'Land Management Apprentice' project and Daisy Whytock (East Ayrshire Coalfield Environment Initiative) presenting on the 'Perfect Peatlands', Coalfield for Pollinators' and Healthy East Ayrshire Rivers' project.
We then took a short mini bus tour to Netherthird Community Garden (via Skares) where Jamie Campbell (Netherthird Community Action Training) talked about the 'Hedge Row Habitats' and we had a walk around the garden and saw the great work that is going on.
We then took the mini bus to Lugar Parish Church where we were introduced to the 'Lugar Heritage Centre' project by Mrs Marion Wylie, Rev John Paterson and Mrs Isabel Campbell.
The Parish Church has a very interesting history. The building was built by Baird & Co as part of the steel factory which was once on the site where the church now is. It was built as an engine room where the railway engines, used to transport the steel from Lugar to its destination, were inspected and maintained. When the steel factory moved the building was gifted to the people of Lugar to enable the workers in the factory and the residents of Lugar to worship. It has been a place of worship, now maintained under the auspices of the Church of Scotland, for 152 years.
We then returned to Ochiltree for lunch and a question and answer session. We had a good attendance from our enthusiastic and passionate project partners and all felt the visit went well.
The NLHF visitors found the visit very useful and have thanked all the partners for coming along and making their trip to East Ayrshire an enjoyable and worthwhile visit.
Further information about the CCLP can be found on our website www.coalfieldcommunities.co.uk
Fingers crossed for a positive result when the NLHF committee meet on 5th March2020.
On November 19th the Coalfield Communities Landscape Partnership (CCLP) team submitted the Stage 2 bid for the Landscape Partnership scheme to the National Lottery Heritage Fund (NLHF). NLHF will consider our submission over the next few months before making a decision in March 2020; we anticipate starting the delivery phase of the CCLP in April 2020.
This marks the end of the 2 year development stage during which time we put together our Landscape Conservation Action Plan (our 'manifesto' detailing why the heritage; built, cultural and natural, of our area is special, what is at risk and what we are going to do about it). This has been informed by various studies that were commissioned covering. We also worked with a range of local communities, people and groups to put together our delivery programme of 22 projects. If successful then these projects will be delivered over a period of 5 years.
The projects cover a wide range of topics from celebrating the areas heritage through music, recording oral histories of life in the 'lost villages' in the coalfields, exploring the history of place names, improving access to the countryside and heritage, peatland restoration, native tree planting, land management apprenticeships, heritage centres and mountain biking to name a few. Some more information on these projects can be found on our website www.coalfieldcommunities.co.uk
This unique mix of projects provides an exciting opportunity for the CCLP to have a landscape scale impact with regards to the areas built, natural and cultural heritage.
Over the next few months, the CCLP team will be working with the various project partners to ensure that everything is in place for our year one projects to start delivering on the ground from April 2020.
Coalfield Communities Landscape Partnership Interpretation event
Agenda
This will be a Stakeholder / Partner workshop followed by an informal public drop in session for all those interested in the CCLP project.
It will be an opportunity to find out about the interpretation proposals and to share your thoughts and views on what stories should be told and where.
The workshop and drop in session will be led by interpretation consultants Rob Robinson and Jo Scott.  
Partner / Stakeholder Workshop – 10.30am to 12.00pm
10.30           Welcome and introductions
10.35           Overview of the interpretation plan and aim of workshop
10.45           The interpretive vision and objectives
11.00           Key sites / projects to be interpreted
11.20           Interpretive messages
11.40           Interpretive media relating to specific projects
12.00           Close and open to the public
Public drop in session – 12.00pm to 1.00pm
Drop in any time between 12.00 and 1.00pm
Find out more about the interpretation proposals for the CCLP project
Share your ideas and thoughts for the stories, places and people that you would like to see interpreted
Oh yes, and lunch is on us!
With much speculation about climate change and carbon emissions, environmentalists in East Ayrshire are excited about a new and important discovery in the heart of the countryside near the former mining community of Ochiltree.
Barlosh Moss, may look like an ordinary boggy bit of ground, but a new survey, commissioned by the Coalfield Communities Landscape Partnership (CCLP) and carried out by Whytock Ecology with funding from the Heritage Lottery Fund, and support from Scottish Natural Heritage, has  revealed that the peat moss there is 12.22m deep – making it the deepest recorded peat bog in Scotland!
To understand why this is important, Councillor Jim Roberts, East Ayrshire Member for Economy and Infrastructure explained: "peatland is an important factor in carbon emissions and global warming. Drained peatlands release a lot of harmful carbon back into the earth's atmosphere, and worldwide it is estimated that degraded peatlands contribute 5.6% of manmade CO2 emissions, increasing the likelihood of flooding and contaminating rivers. On the other hand, healthy peat bog, such as Barlosh,  act as a sponge, retaining carbon, capturing rainwater and slowly releasing it as filtered water into streams and rivers at a manageable rate.
"This means that Barlosh is a particularly important site environmentally as Scotland moves to cut carbon emissions and preserve our precious habitat.
"The survey was carried out as part of the work of the CCLP to help work out how we can preserve and restore peatland in East Ayrshire, particularly in the former mining sites. Long term the findings and resulting work will help reduce greenhouse gas emissions, improve local water quality and protect important habitat for insects, animals and plants. Ultimately of course, it is people who will benefit from this too!"
"Anyone who is interested can find out more about what the CCLP is doing, how to volunteer and get involved by visiting their brand new dedicated website  www.coalfieldcommunities.co.uk .
Access Study Update July 2019
A key objective of the CCLP is to reconnect people with their landscape. It aims to achieve this by delivering of a suite of integrated landscape scale projects that will leave a lasting legacy for all of our communities.
An important way of reconnecting communities to the landscape is by improving existing footpath and cycling networks and creating new strategic path networks.
We have appointed environmental and landscape consultants Ironside Farrar to prepare a study to inform our access and riparian projects during the delivery phase of the CCLP.
Ironside Farrar are looking at possible walking routes in both the Doon and Lugar Valleys. So far they have identified potential draft routes, marked them on plans and have prepared notes to illustrate the possibilities.
We would like to take this opportunity to receive any comments and suggestions so that we can further refine our ideas. The draft routes and accompanying notes can be found in our resource section of the website. Please feedback any comment via the website.
A link to the resource section is provided below. https://coalfieldcommunities.co.uk/resources/
We are keen to make sure that we have good access routes that people will use and be able to learn more about the landscape they live in.
Please note that the consultants will be arranging further opportunities for all communities to comment.
Update on the CCLP
Behind the scenes, and following our Mid-Term Review with the Heritage Lottery Fund in Edinburgh, the team is busy meeting with Project Partners to develop their ideas in readiness for the Stage 2 submission. In May, the team presented HLF with a progress report and an account of the status of the Project. At this review, there was the possibility of failure. Fortunately, we were asked to continue working toward our submission in November when we will submit our full Stage 2 Application to HLF including Project Plans for all the proposed projects. The first year of projects require to be fully funded if HLF are to consider the project "low risk" enough to want to fund it.The Scottish Committee will make a decision around March/April 2020 as to whether the five-year Partnership will proceed.
Project Update
The Partnership has now appointed consultants Ironside Farrar to study access routes and river corridors in the LP area. In particular, they will be focussing on developing walks along the Lugar and the Doon and would welcome input from local communities and landowners.
The Project Officer is working to develop a project in and around Dalmellington Old Kirkyard. This little sanctuary in the heart of the town is neglected and underused and yet offers so many opportunities for us to appreciate built, cultural and natural heritage.
Last week a group of lichenologists, Sandy Coppins, John Douglass and Brian Coppins visited to give us an idea whether there is anything of interest within the site that we need to consider prior to undertaking any work. The growth of conifers has sadly omitted the light many lichens require and has suppressed their growth. Managing the arboriculture of the site will form part of the project and this type of information is vital in informing our decisions for the future of the graveyard.
At first glance, the experts discovered a species of interest Leptogium teretiusculum that is an indicator of long ecological continuity along with other interesting species spotted on the yews. We hope that, as the project proceeds to offer talks and identification guides on these fascinating species so please let us know if you are interested.
UNIQUE SPACES… Dalmellington Old Kirkyard
There are over 3,000 burial grounds in Scotland, ranging from small rural medieval churchyards on islands to large Victorian city cemeteries, spanning different cultures, religions and centuries.
The 1994 report on the Management of Old Cemeteries (Dunk & Rugg, 1994) enumerated four different kinds of value, which cemeteries represent to today's society: historical, ecological, education and leisure (or amenity) benefits. This four-fold scheme is echoed in "Paradise Preserved" by Natural England, which lists the most important benefits as being architecture, landscaping, wildlife and local amenity.
The CCLP wants to develop a project around Dalmellington Old Kirkyard and a long-term management plan for it based on these four themes. We want to support groups and individuals to investigate, care for, and enjoy this unique site. We want to keep the Old Kirkyard beautiful, accessible and connected to the community. Cemeteries, churchyards and burial spaces are often highly valued by communities for their "spiritual" as well as place-making qualities. The heritage conservation movement has also identified historic cemeteries as places of specific local heritage interest, as well as being very much a part of the historic townscape. The place-making or local identity properties of churchyards and cemeteries are especially valued.
Burial grounds encapsulate the history of communities whilst offering refuge for our native wildlife, appealing to many who are interested in local history and the natural world. However, their heritage value, and even their continuing presence, cannot be taken for granted. They are under threat from development, closure, under management and mismanagement. The Old Kirkyard has alr subjected to all of the above.
For some people burial grounds are the only locally accessible green space. Sadly, the Old Kirkyard, despite being located in the heart of the town, is far from accessible to the community. It does, however, have considerable historic heritage interest that remains unexplored and unexploited. There are a very large number of listed buildings in cemeteries, including lodges and houses, boundary wall, gates, mortuary chapels, cemetery chapels, tombs and mausoleums with Dalmellington enclosing the B-Listed Macadam Mausoleum.
The 'Living Churchyards' project, is another example of how churchyards and cemeteries are increasingly valued for their bio-diversity value. According to ARC (Alliance of Religions and Conservation) 'more than 6,000 British churchyards run their small plots of land as sacred eco-systems – without pesticides and mowing the grass only once a year – ensuring that birds, reptiles, insects and bats can thrive'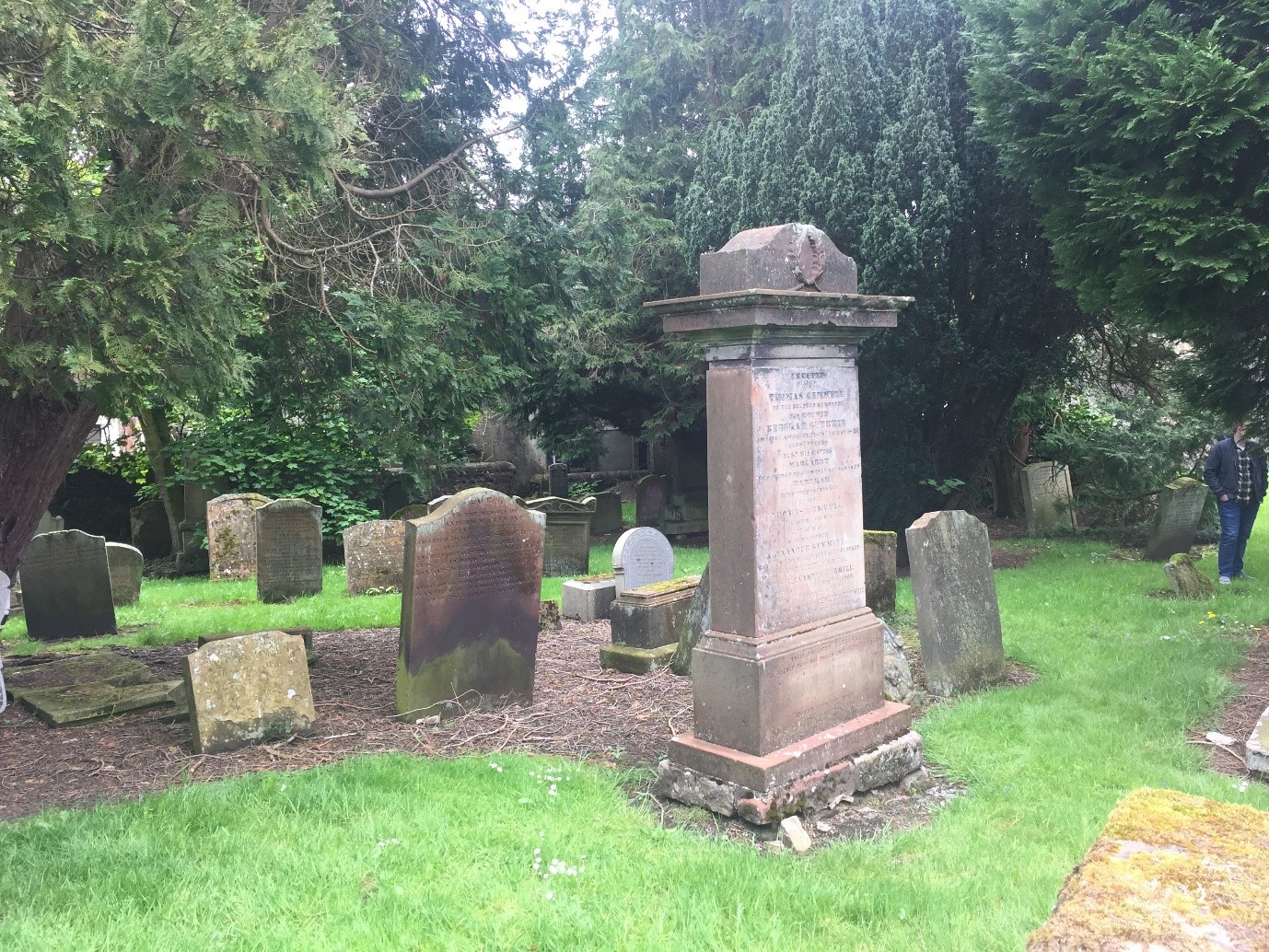 On the other hand the Old Kirkyard has special architectural and landscape interest because it has been trapped in a time-warp, and has not been modified, adapted, overlaid or even destroyed, as has so much else in the historic environment.
Urban burial grounds were envisaged originally as public open spaces, with later 19th century ones professionally designed to be attractive places to visit in their own right. Today, many cemeteries, like Dalmellington Old Kirkyard are neglected, with little to attract anyone apart from those visiting specific burial plots. This lack of care, planning and ambition means that the potential health and environmental benefits of cemeteries are not being realised.
Many historic cemeteries, now full, like the Old Kirkyard, have become neglected, though they may well contain buildings, artefacts and landscapes of great heritage value and interest. Many of the great 19th century, urban cemeteries were designed and laid out by the same people who created public parks, and were considered to belong to the "park family". They were regarded as much as public landscapes as they were functional burial places. This close relationship between the cemetery and the park has disappeared from many local authority perceptions and strategies.
Yet cemeteries may still deliver as many amenity and ecological benefits as parks, and should be thought of in the same terms. There is a need for a strategy for Dalmellington Old Kirkyard and indeed all local cemeteries that could be integrated into a wider local authority green space strategy.
The growth of cemetery Friends of groups is a sign that the public wish to engage again with conservation and environmental projects in cemeteries and churchyards. Some of the increasing public interest in cemetery conservation can be attributed to the growing popularity of family history, and the use of burial records and cemetery registers to identify family burial places, gravestones and monuments. Local Friends' Groups have also played an important role in improving the conservation of cemeteries. In East Ayrshire there are no such groups and no local guides to these valued historic environments.
The CCLP offers us a unique opportunity to find a balance and a future for the Kirkyard, allowing us to conserve this unique part of Dalmellington for at least as long as it has already existed.
If you have an interest in any aspect of the Kirkyard please get in touch and watch for future volunteering opportunities.
The CCLP team may have seemed quietly lately, however, we have been busy working away behind the scenes preparing for our Mid-Term Review with the Heritage Lottery Fund on 17th May. The team travelled to Edinburgh and spent a couple of hours presenting our Scheme so far to our Project Mentor and the Senior Investment Manager. The good news is we have been asked to continue with our proposal and proceed with a Stage Two submission in November 2019. This will then be assessed and reviewed by HLF Scottish delegated decisions in March 2020. We will be competing against other bids which may have a more secure funding profile than ourselves and therefore present a much lower risk for investment by HLF so it is imperative that we continue to strive to develop our projects as much as possible.
To this end, we have enlisted some help from colleagues in Planning & Regeneration and have been busy scheduling and attending meetings with project proposers to assist in the production of Project Plans and in particular financial planning. This work will continue over the summer months along with some more events to encourage projects to look for commonality and sharing of resources and funding.
Over the summer there will be further Board and Steering Group meetings organised and if you are a member of the community who would like to take part in the Community Steering Group please get in touch and we will keep you posted of the meeting dates and venues.
Coalfield Communities
Landscape Partnership
The Opera House
8 John Finnie St
Kilmarnock
KA1 1DD